Power plug, socket & mains voltage in Ireland
An appropriate travel plug adapter is needed to fit into the local sockets: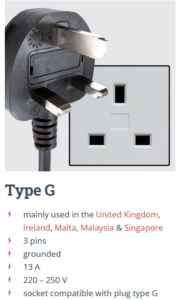 More information here.
Your Presentation on a USB
Save your presentation on a USB and bring it to your paper session at the conference.
Access to the PCs in the session rooms
Guests login credentials for the PC in the conference rooms:
username     lectroom
password    SuM_CoN_51
Internet Connection at TCD
How can I connect to the internet? To connect to the 'TCDconferenceWIFI' guest Wi-Fi network:
Ensure Wi-Fi is turned-on on your device.
Open the Wi-Fi configuration screen of your device.
Select the 'TCDconferenceWIFI' SSID.
A login page should automatically open. If it does not, open a web browser and try go to an external webpage.
On the TCDconferenceWIFI landing page, if you do not have a username and password, select the link to self-register. Otherwise enter your username and password.
On the 'Self-Registration' page, enter the following details:

Conference ID TCDCONF5D
Mobile phone number: this will be used to send you a password and will also become the username.

On the 'Self-Registration Receipt' page, select 'Sign-In' and enter the credentials you received via SMS.
Additional info:
To get back to the login page at any stage, go to your device's Wi-Fi configuration screen and re-select the 'TCDconferenceWIFI' SSID.
A number of devices can be registered using the same mobile phone number, however, you can only log onto the self-service guest Wi-Fi using the device from which you sent the request.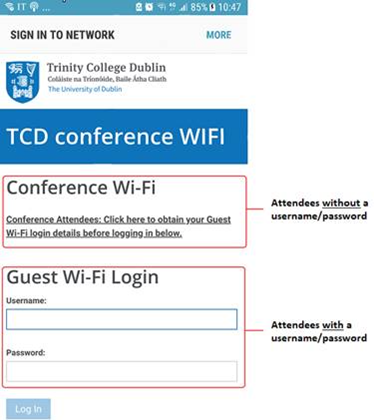 Luggage Storage You will be able to store your luggage at the registration desk.
Registration Desk
Located in the TBS Building Entrance Main Foyer. Registration Desk Operation Hours
13 June 2023 – Tuesday 13:00 – 19:00
14 June 2023 – Wednesday 08:00 – 19:00
15 June 2023 – Thursday 08:00 – 19:00
16 June 2023 – Friday 08:00 – 17:00
Catering during #EURAM 2023
In line with the sustainability policies of  Trinity Business School, all catering will be vegetarian or vegan.
Failte Ireland
Failte Ireland  – the Irish Tourist Board – has agreed to support EURAM 2023 in Dublin. Please note that they will contact a random sample of 10% of registered delegates to verify attendance at the Conference. Your personal details will not be used by them for any other purpose. Thank you in advance for your collaboration!
Frequently Asked Questions
Consult the FAQ where many of your questions are addressed.