Letter of the President
Dear EURAM Community,
Today, I would like to let you – at least some of you, speak. We are so grateful for all your feedback on the 2020 EURAM Conference and the 2020 EURAM Doctoral Colloquium that we have compiled selected quotes from your feedback to share it with all of us. Why? Because the positive feedback in fact values the great contributions from the community and the suggestions for improvement help us to get even better in the future – together.
---
From EURAM 2020
Let us know why (Would you recommend attendance to the EURAM Conference to your colleagues?):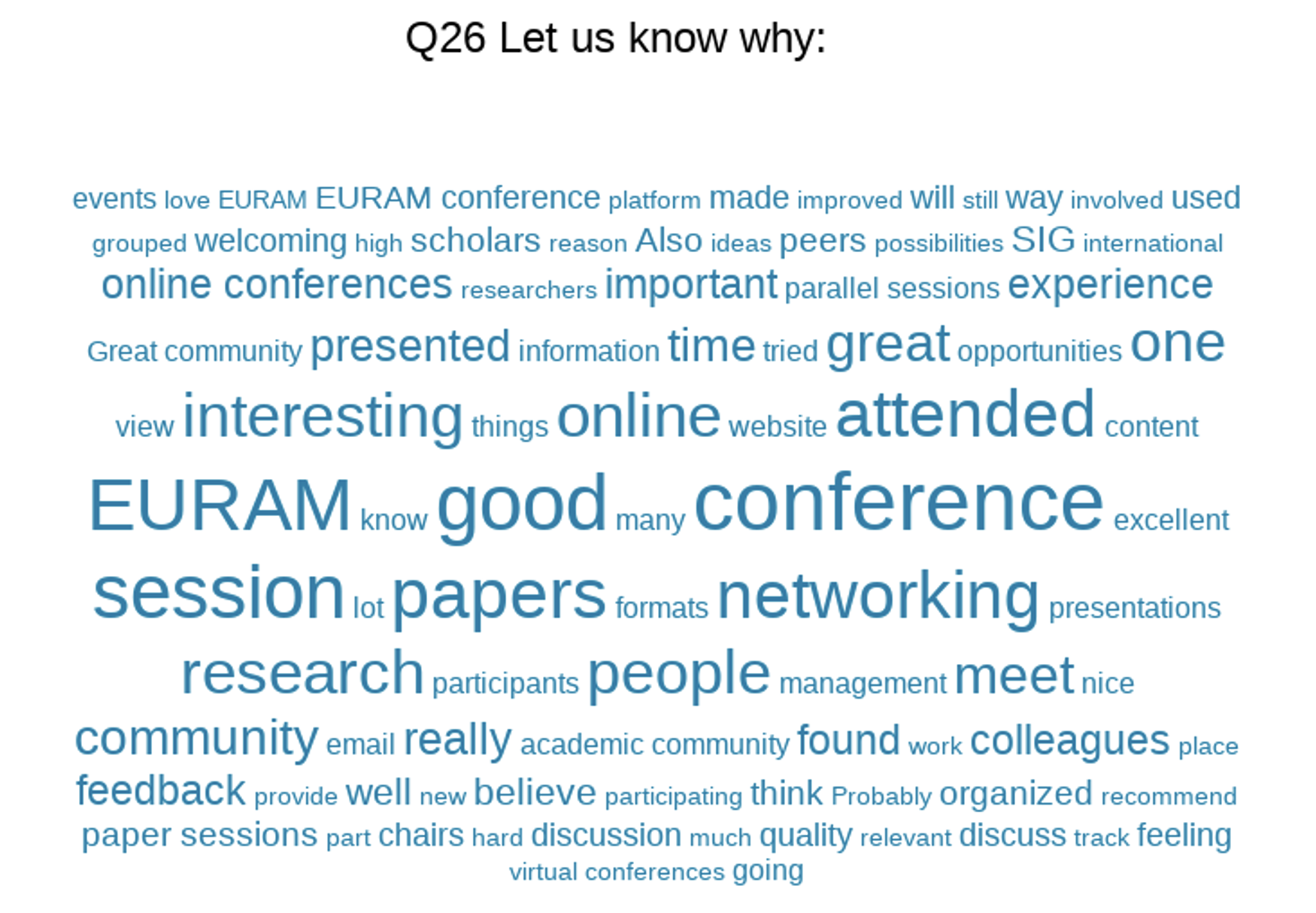 Peer review process. Get feedback Networking opportunities. Get an overview of other researcher's work.
EURAM Conference is an opportunity to grow and share knowledge and experiences as well as to expand the relationships and networks.
EURAM is a great community and great for networking.
What surprised me the most was the community: inclusive, warm, friendly, and approachable. I attended other online conferences before, and they were more aseptic. Networking was also much more difficult, if not impossible. The environment was also very constructive. I really liked it. This is non-trivial, since I am a PhD student, and this was the first EURAM conference I attended. I wish I had a paper ready to be submitted to the next one.
The conference was very well organised, and the parallel sessions were very close to the quality of the parallel sessions in face-to-face conferences of previous years.
Tell us what you enjoyed most at the conference: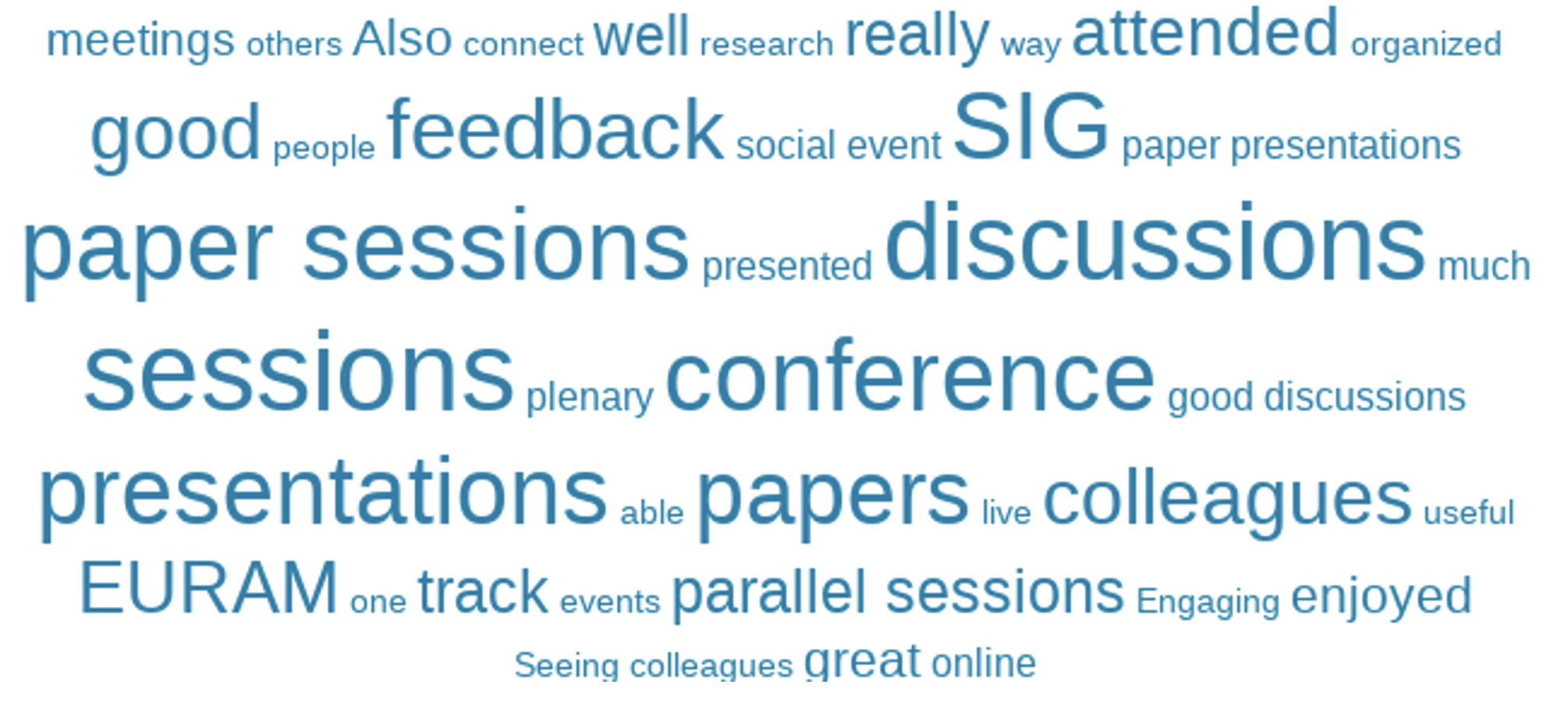 Our track discussions which were vivid and lively. The attendance of some participants from the beginning of the track until the end.
Morning coffee sessions and parallel SIG sessions
I liked the SIG sessions and symposia. Thanks to online format people from remote locations could participate. I also liked the informal character brought by the fact that we were connecting mostly from home. Somehow it facilitated the less formal discussion.
Do you have any suggestions for developments for future EURAM Conferences?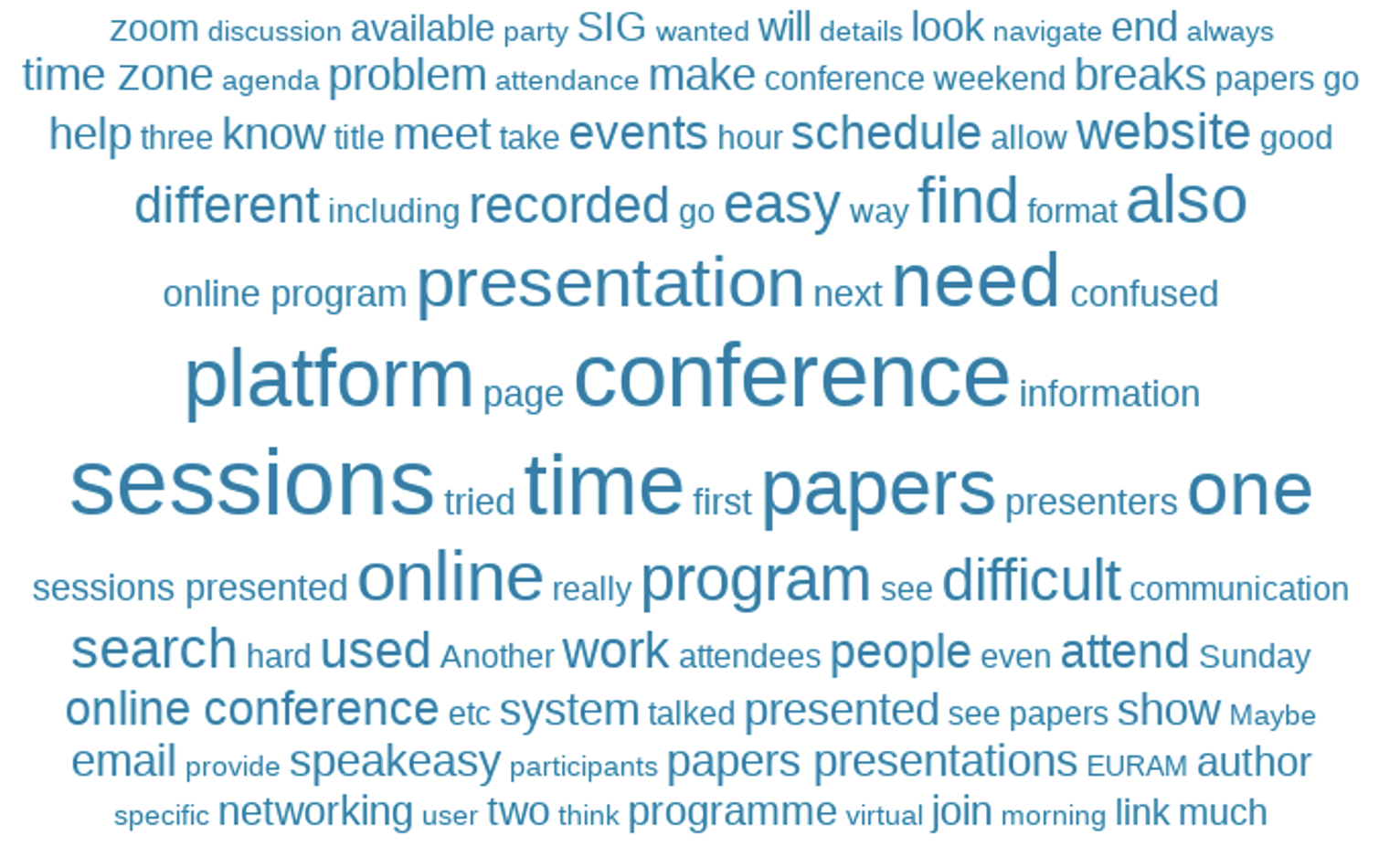 The programme was a bit confusing because the respective presentations were not shown directly for every SIG session
Make the online program perhaps a bit more user friendly.
Breaks, Length of the sessions, Platform training, Recorded sessions
Some sessions gathered just few people, like 4 or 5. I do not know what could be done about it. I understand that 10-13 people on the session is regular practice for online conferences, we have the same at our online conference this year, while normally we have much better attendance offline. I suppose the last day, Sunday, gathered less people. Perhaps next time it could be suggested to fit the conference into three days instead of four. All in all, thank you very much for the excellent conference and the efforts you put on it!
From the DC
The DC was incredibly valuable for me and the mentorship is planned to continue into the new year.
Congratulations to all DC Chair Members for a fantastic Conference. It exceeded my expectations by far and I am just looking forward being part of EURAM 2021 Conference in Canada, albeit online. I'll never forget the optimism, motivation, fun, mentoring and reassurance messages, so important to fuel my Ph. D. journey, and for sure, an experience to be embedded in my personal and professional life. Palmam qui meruit ferat!
Please, please, please, keep to the timelines agreed. I think every single session ran over time. Our mentor was very knowledgeable and had invested time in reading our work. She challenged us positively and was able to pinpoint some very important points for further consideration.
---
Thank you so much! All together, we are EURAM – the academic home of a professional community of engaged management scholars and reflective practitioners – open, inclusive, international and cross-cultural.
Best wishes,
Kathrin M Moeslein, President